Official Correct Craft Press Release
: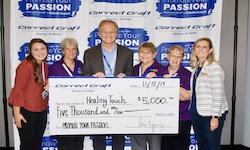 Orlando, FL
(November 15, 2019) - This morning Correct Craft announced winners of their "
Promote Your Passion
" initiative, conducted in partnership with the Orlando Sentinel. "Promote Your Passion" was a Correct Craft initiative to promote and raise awareness and money for small, local charitable organizations. The initiative ended this week and was a tremendous success.
Promote Your Passion was a contest allowing charitable organizations across Central Florida to promote their cause, through the Orlando Sentinel's website. Correct Craft underwrote the initiative so there would be no cost to the non-profit. Each non-profit had information posted on Orlando Sentinel's website where readers and visitors could learn about the organizations and vote on the one they believe should win a donation from Correct Craft
.
A poll was live from Tuesday, October 1
st
to Sunday, November 10
th
and voting determined the winners.
The nonprofits that participated in the program were: Central Florida Children's Home, Community Hope Center, IDignity, Impower, Samaritan Village, Chance 2 Dance, Always Wear Your Seatbelt, Healing Touch Therapeutic Riding Center, and Lighthouse Central Florida.
Healing Touch Therapeutic Riding Center received the most votes with Chance 2 Dance in second. Correct Craft contributed $5,000 to Healing Touch Therapeutic Riding Center, $3,000 to Chance 2 Dance, and $1,000 to each of the other seven non-profit organizations.
Correct Craft President and CEO Bill Yeargin stated, "It's a true honor to support organizations that make our local community better. It's also great for Central Florida to hear from all these organizations and that's why we partnered with the Orlando Sentinel to get the word out." Yeargin added, "The Promote Your Passion initiative is one of the many ways our team works to support our community. We embrace our vision of making life better and are thrilled we can support these organizations. We are looking forward to doing it again next year!"
Information about the non-profits and the place where
voting took place can be found here.
Recommend what Central Florida non-profits we should do next year for "Promote Your Passion" by emailing
communication@correctcraft.com
.
About Correct Craft:
Celebrating 94 years of excellence in the marine industry, Correct Craft is a Florida-based company with global operations. Focused on "Making Life Better," the Correct Craft family includes Nautique, Centurion, Supreme, Bass Cat, Yar-Craft, SeaArk, Parker, and Bryant boat companies, Pleasurecraft Marine Engine Group, Watershed Innovation and Aktion Parks. For more information please visit
www.correctcraft.com
.